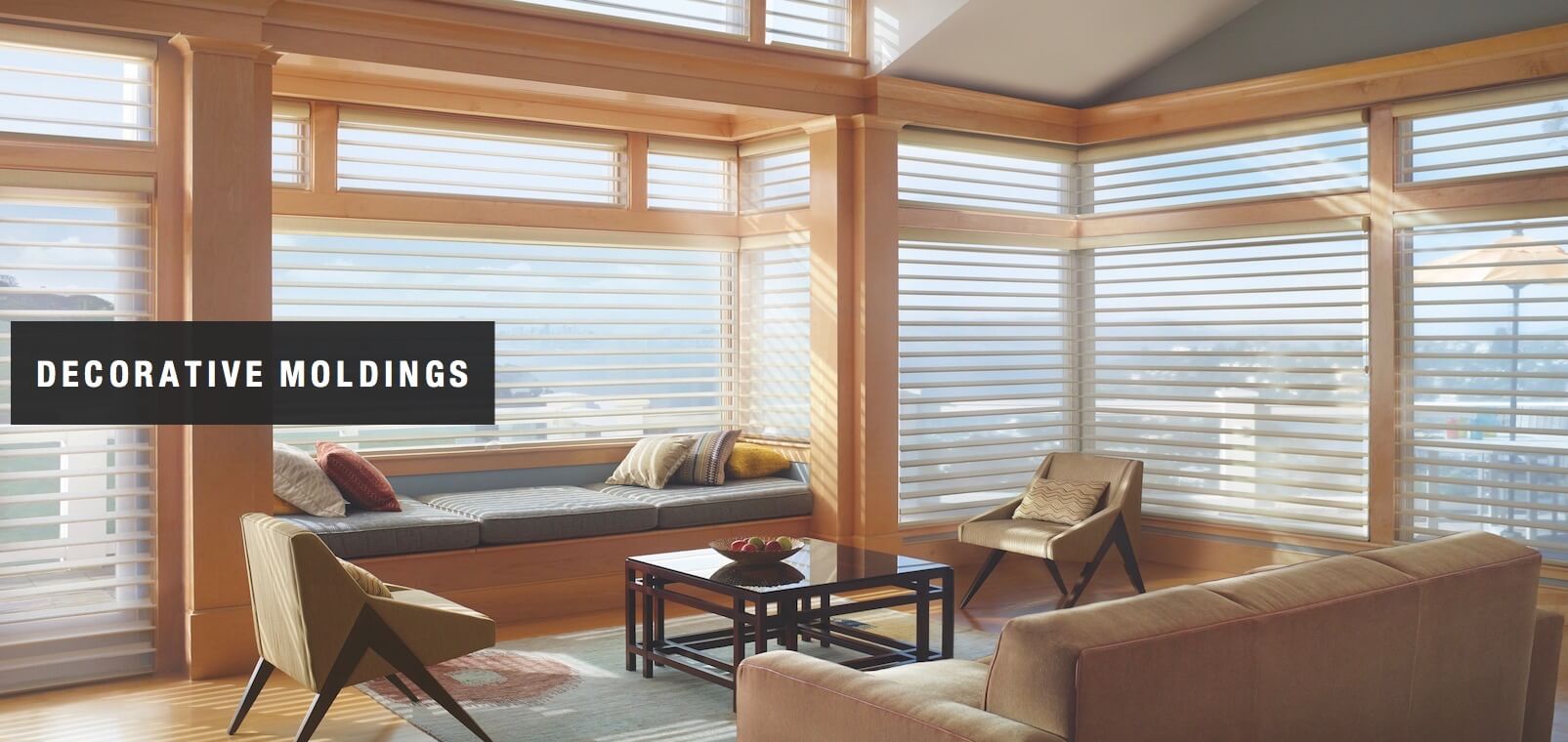 Wood window casings add warmth and interest. Shown with Silhouette® window shadings.
Decorative moldings can help frame your home design plan.
Decorative moldings on walls, windows, doors, and ceilings add texture and interest to your home, no matter what your design style.
Moldings come in so many shapes, sizes and finishes. They can consist of one simple layer or several stacked layers to add embellishment. Traditionally moldings have been made of wood, but today they're often constructed from materials that look like wood, but are more durable and budget friendly.
Wainscoting adds a rustic touch to this bathroom. Shown with EverWood® TruGrain® blinds.
White Palm Beach™ Polysatin™ shutters with dark wood casing create a dramatic effect.
Molding usually works best when it complements the design of your home; for example, a Victorian home may have heavily ornamented moldings, while a modern home has squared, simple moldings or no moldings at all.
We tend to think of moldings in white or off-white colors, with walls painted a different shade. However, light colored walls with dark molding can be a dramatic choice too! Just consider your options:
Windows:
Casing around the entire window frame
An apron on the bottom
A pediment on the top
A decorative or fluted design on the sides
Doors (both exterior and interior):
Casing around the sides and/or tops
Raised paneling on the door itself
Walls:
Baseboards at floor level
Crown molding at ceiling level
Raised paneling, possibly with wallcoverings or mirrors in insets
Wainscoting and picture rails, with the choice of different paints or wallcoverings above and below
Paneling around a fireplace or built-in shelving
Wall paneling behind a bed instead of a headboard
Stepped paneling going up a stairway
Ceilings:
Around chandeliers in the dining room or foyer
Decorative moldings can help shape your décor – like adding just the right accessories to a beautiful outfit! For more ideas or help with your next design project, contact the team at Pioneer Window Fashions.
White moldings add a bit of traditional style to a modern home. Shown with Silhouette® window shadings.
MADE WITH LOVE AND CARE 
Pioneer Window Fashions is here to help with all your home design needs. From stunning Hunter Douglas window treatments to gorgeous fabrics, we'll work with you to create a home you love.
Content copyright Hunter Douglas.