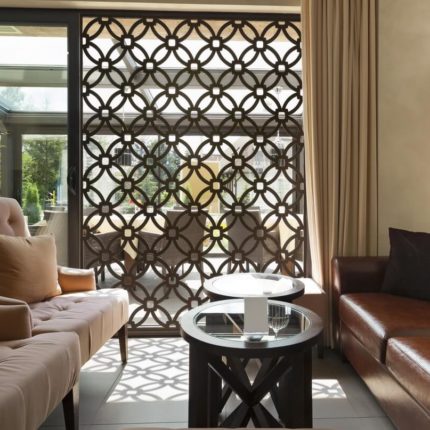 Faux Wrought Iron
Pioneer Window Fashions offers Tableaux® decorative grilles (faux wrought iron) products.
Decorative grilles are made of faux wrought iron, which is a customizable, lightweight (10 percent of the weight of iron) design product.
If you're looking for modern European classic, romantic Mediterranean, contemporary geometric designs or others, using faux wrought iron is a great way to beautify your home at a reasonable cost. Compare the price and ease of customizing faux iron to custom ironwork projects requiring precise shapes, dimensions and design specifications and see the true value of Tableaux.
The typical ornamental or decorative design characteristics of iron can be enriched with increased design flexibility. We can adapt to any design concept or incorporate personalized custom designs. We also offer Tableaux Veneer, which provides a warm and inviting feeling using an organic wood-grain texture with limitless design options and finishes.