Powered Window Treatment Options
PowerView® Automation: Living with Convenience
Hunter Douglas introduces PowerView® Automation, seamlessly integrating your powered window treatments with your smart home system.
Smartphone & Tablet Control:

Adjust your window treatments anytime, anywhere, by using the PowerView® App and gateway integration.

Voice Control:

PowerView® integrates smoothly with popular smart home systems like Amazon Alexa, Google Assistant, and Siri, making home automation easy.

Remote Control: Opt for the wall-mounted and/or Pebble® Remote Control, a modern remote with an ergonomic design that allows you to create and preset up to six different window treatment groupings.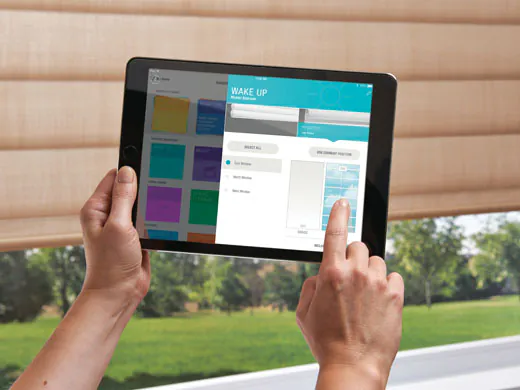 SoftTouch™ Motorization: A Soft Touch for Gentle Adjustments
A battery-powered system allows for simple touch-and-go functionality. A gentle adjustment on the wand will quickly set your shades.
Hard-Wired Solutions: For the Dedicated Home Automation Enthusiast
Hunter Douglas offers state-of-the-art wired solutions, ensuring reliable performance, compatibility with major home automation systems, and continuous operation without needing battery changes. Seamless integration with ELAN, Clare, Crestron, Control 4, Savant, URC,RTI, Brilliant and others allows you to manage Hunter Douglas products through your a complete automation suite.
Why Opt for Hunter Douglas Powered Window Treatments?
Enhanced Privacy:

Adjust your shades remotely to enhance privacy when you're away from home.

Energy Efficiency:

Schedule your shades to optimize natural light, helping reduce heating and cooling costs.

Safety:

With no dangling cords, powered window treatments are tailor-made for homes with kids or pets.

Aesthetic Appeal: Modern, clean, and cord-free, these treatments enhance the aesthetic appeal of any room.
Integration with Your Smart Home
Hunter Douglas's motorized window treatments can be synced with popular smart home systems, enhancing your automated home experience.
Whether you're using Apple HomeKit, Amazon Echo, Google Home, or other major smart home systems, integration is smooth and intuitive.
Easy, Accurate Shade Control 
Featuring Bluetooth integration, your PowerView shades will always do exactly what you want — when you want them to do it.
Featuring instant communication between your shades and the PowerView automated system, you'll have complete control at your fingertips.
Experience Tomorrow's Window Treatments Today
Step into the future of home automation with Hunter Douglas's powered window treatments.
Whether you're renovating your home, are a tech enthusiast, or appreciate the convenience of modern living, motorized shades, shutters and blinds will elevate your living experience.
Visit our showroom to see these window treatment power options in action and to consult with our experts on how best to integrate Hunter Douglas's powered window treatments into your home.
More Powered Window Treatment Options
The look you want with the help you need.